The quality of the education and practicum placement is dependent on the abilities of our students, therefor The Royal Alberta College (RaC) is very diligent in selecting the most capable students to attend our school.
The information collected through the submission of your document is protected upon direct submission to The Royal Alberta College. The information provided within the requested documents is to assess the applicant's pre-admission.
This is not the formal registration process. Documents are required to be filed out by all students that require study permits to attend The Royal Alberta College.  Most answers can be answered in a Yes, No or Not Applicable (NA) format, otherwise present as much detail as possible. Your application is being assessed on the quality of information.
Your contact information will be used to engage you for an informal online interview, prior to the in-person interviews** that will be in Kiev, Ukraine, or in Chandigarh, India. Only applicants that complete this process will be permitted to attend the formal in-person interview and information session; in person interviews only happen twice a year.
Upon completing this PDF, you are requested to submit it online through our site – DO NOT EMAIL IT TO ANYONE ELSE OUTSIDE THE COLLEGE- 
Cost for administration of this document is $50.00* – Fifty Canadian Dollars and is paid by PayPal directly to The Royal Alberta College, this fee is non-refundable. DO NOT PAY ANY OTHER ENTITY FOR ANY FEES OTHER THAN THE COLLEGE DIRECTLY THROUGH A FINANCIAL INSTITUTION OR CREDIT CARD COMPANY NO MONEY ORDERS ARE ACCEPTED. Fees to administrate this document are not applicable towards tuition.
Upon completing this document, you shall do the following:
Pay the fee and reference your LAST NAME and MONTH OF BIRTH
Send an email to: International@Alberta.College advising that you have submitted your application, paid the fee and provide your LAST NAME and MONTH OF BIRTH.
You will be assigned an online interview date and time.
Submission and acceptance for an online interview does not guarantee acceptance into the program, it is the first step for registration into the International program.
*Fees are subject to change with notice
**In person interviews are subject to availability of RaC staff, selected applicants will be notified of dates and the locations within a 2-weeks period prior to these interviews. If the applicant pool is limited, the RaC Staff can elect to have online interviews as a formal registration process.
DOWNLOAD APPLICATION FOR INTERVIEW FORM HERE:
CLICK THIS LINK TO DOWNLOAD INTAKE INTERVIEW FORM MAY 2019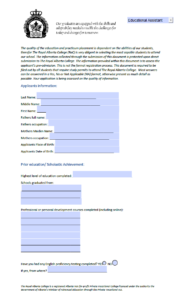 INTERNATIONAL STUDENT PATHWAY AND APPLICATION PROCESS:
1.) All Applicants must have graduated from High School (12th Standard), achieving a minimum mark in their 12th level of studies and received:
A minimum of 65% overall within a Social Studies course (or equivalent)
A minimum of 65% within Math (or equivalent)
A minimum of 70% Overall in English, Language Arts
ALL High School marks must be certified by the issuing school.
2.) All students that have attended a post-secondary schooling must provide their credentials and show a PASS, credentials will be required to be certified by the issuing school and will be compared to the International Qualifications Assessment Service (IQAS) Criteria for the country of origin. To learn more about the IQAS Please CLICK HERE:
3.) All applicants MUST pass a pre-admission interview, (this is a fee-for-service) this is where you will provide evidence that you are fluent in reading, writing and speaking in English. Interviews will be arranged prior to formal application. To learn more about the interview assessment for English fluency please CLICK HERE.
Pre-Admission Interviews will require applicants to bring:
Two personal references from a former employer or teacher indicating the applicant's maturity and responsibility.
Evidence of age (must be 19 years of age or older, exceptions may apply for those that apply at the age of 18 and turning 19 while in School)
Transcript of ALL MARKS including high-school marks, post-secondary education, language proficiency exam results.
Transcripts will be utilized to assess the students ability within a classroom, pass and fail marks DO NOT result in rejection into the college.
Formal Application (Upon acceptance) will require the applicant to provide:
To have the ability to have a valid passport for a minimum of 5 years, and never been denied entry into Canada.
Proof of ability to acquire funds for a G.I.C (from a bank in India to Bank of Nova Scotia) A sponsorship letter or official documentation (notarized) indicating that the student can pay for the program and living expenses. Remember that you will have to show Canadian Immigration that you have a place that you can reside in while your enrolled in the program.
An registration fee of $500.00 (applied to tuition cost once the student commences) to be provided before a letter of acceptance is issued (Payment is in Canadian Dollars and is to be paid online and directly to College via-bank transfer)
ADMISSIONS ARE CAPPED
For further reference please visit the "International Student Pathway" tab within this site.